You all know I talk up Tin Hats on this blog. I am proud to wear My hat! As you know, believing the lies, is dangerous, and is not an honorable thing!
I started wearing my hat because I have received comments in the order of "Where's Your Tin Hat?" while I tell people the verified Truth!
So you may be asking yourself, How does Kevin get off thinking he knows the truth?
I do a bunch of reading, and fact check everything I read! No! Paid fact checkers are not what I use, they are part of the lie! I take the time to verify the information, just as You should.
Well Folks! On to the story. A couple of Us went on a tour of Yuma AZ yesterday, sporting our Tin Hats! We hatched the idea around a discussion of what we read and what we thought of it. I can't recall the exact discussion but we came up with the idea of walking through some stores sporting our creations. We put labels on the hats to remind people that our hats would do the same job as masks do! Well OK the hats don't work very well as dust filters but then, We were inside anyhow.
As a side function, we did a fund raiser! we printed some QR codes of the below site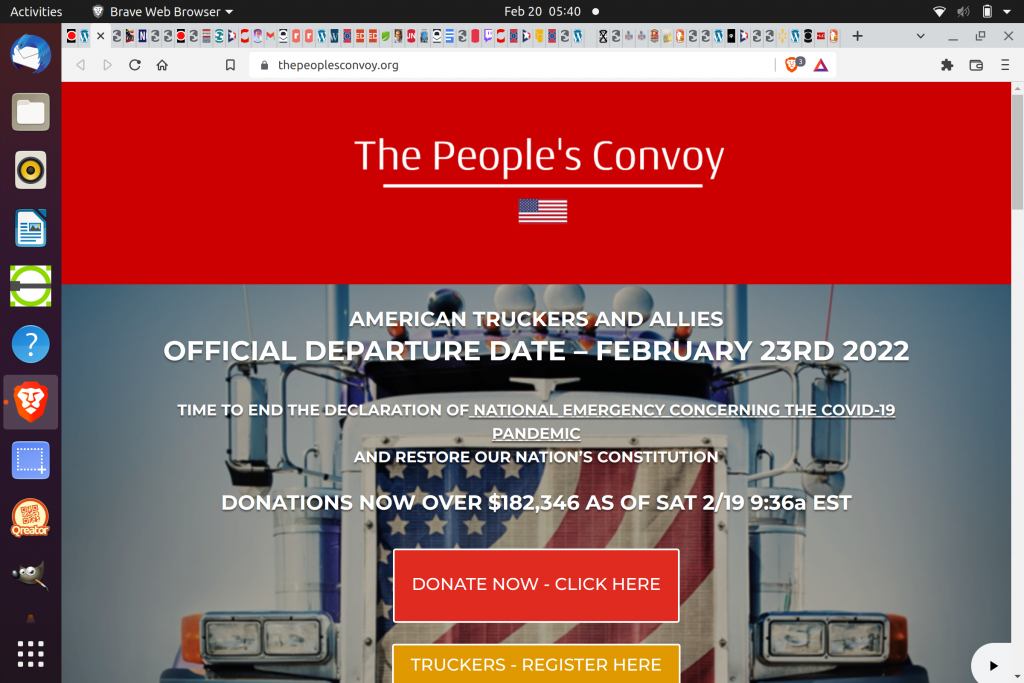 In the brave browser making QR codes is easy to do. Just highlight the address in the address bar and on the right side of the bar a QR code icon shows up. Just click on it and download! I bet you can come up with some other innovative uses for this brave feature.

I made up this wonderful page in Libra office, my preferred open source office program and with a little cutting we had a secondary(turned into primary) operation going! We are going in to town again to continue our fund raising project, We are determined to overcome Draconian measures by supporting our truckers. You can download the PDF, and follow our lead.
I would like to point out that several Convoys are forming around the country. You can find Your local Patriots by typing US trucker convoy in your browser, and support Your local group, or get hooked up and Join in any of the convoys.
Realizing not everyone can, or should join in For health, or other reasons, We realized there are ways everyone can Get Involved!!!
The Donation Dollar Numbers help everyone see the number of People that are involved in heart and soul. Everything You do, is part of the collective! And everyone that Does something is an, in Your face movement of the People that the tyrants, and "Media, mouth of the Cabal" Can't stand to face. They Are Now the Hunted! And We the People have awakened, and know what they are!