Every Friday I close my day looking up the OpenVAERS.com/covid-data page. I know I will get depressed when I do, however, I must. I am driven by the hope that the number will only increase a smaller amount than the week before. I am sorry to tell you that every bloody friday, the blood on the hands behind this atrocity is continuing at an evil rate that hurts my heart.
before I share I would like to bring more info to the table for why I am disturbed. First and foremost I originally thought with the closing of mass vaxx centers was an indication people were wising up to the agenda, I was wrong.
One would think that the numbers would indicate deaths of people with serious injuries, or should I say all deaths. and this would explain the continued rise in deaths, but this is not the case! We submit this little snippet from the Vaers.hhs.gov website.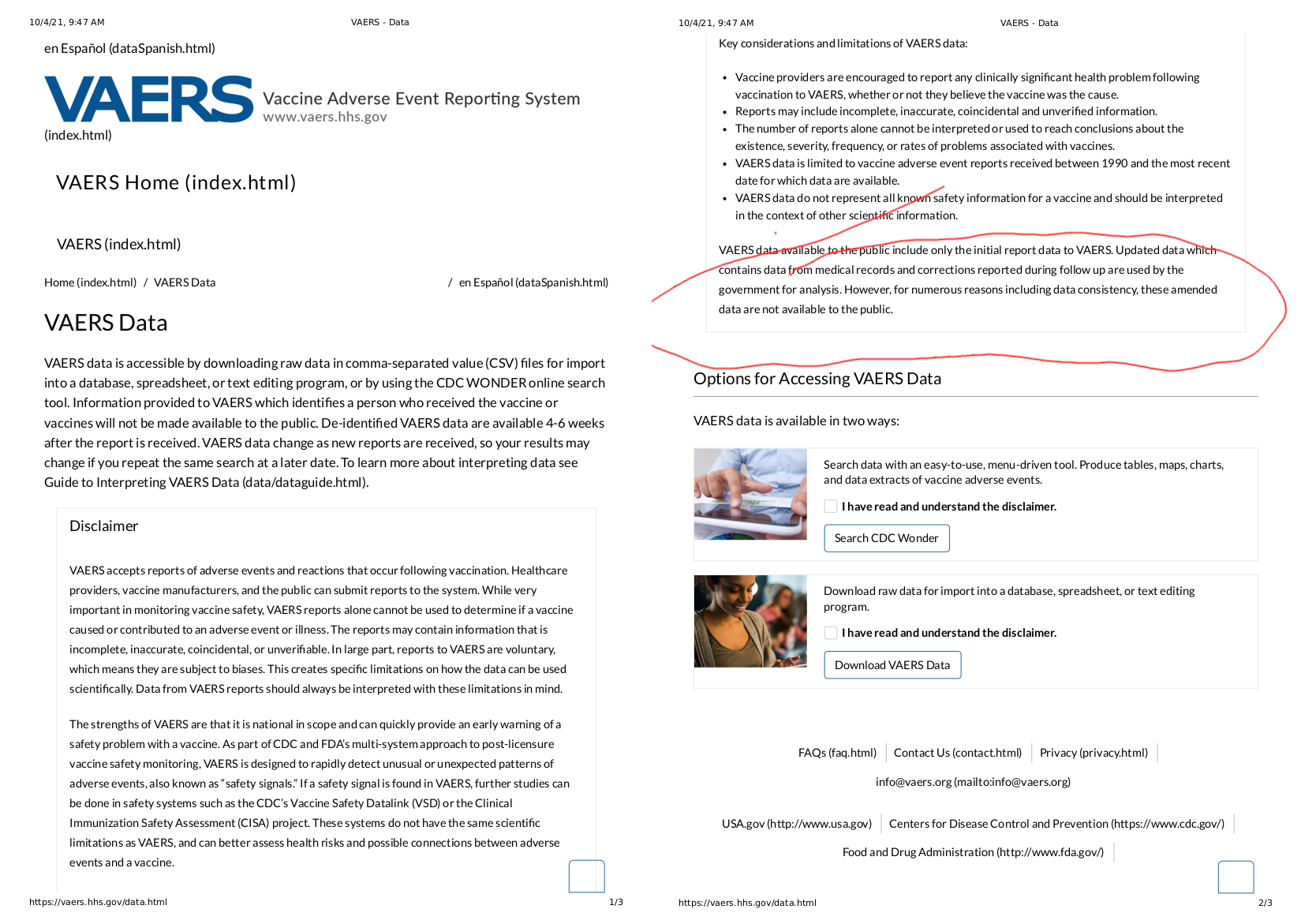 This statement circled in red tells us that anyone that reports anything but death to vaers in the initial report. Should they in the future die of complications the public will not see any evidence of the death. HUMMM!!!!! Not a good record for vaers deaths is it?
I am not through yet though. next is this snippet of the OpenVAERS.com reporting sites home page.

We see in the red circle that according to the Lazarus report only 1% of injuries are reported. Again HUMMM!!! two zeros added to what gets reported on the VAERS data base. Not to include deaths not originally reported as a lessor event.
Not through yet!!
Lets look at the numbers shall we? The numbers reported as of September 24, keeping in mind that VAERS is lagging 4 to 6 weeks behind in what they report!!!! These numbers are old and obsolete at best, for a fast Moving target.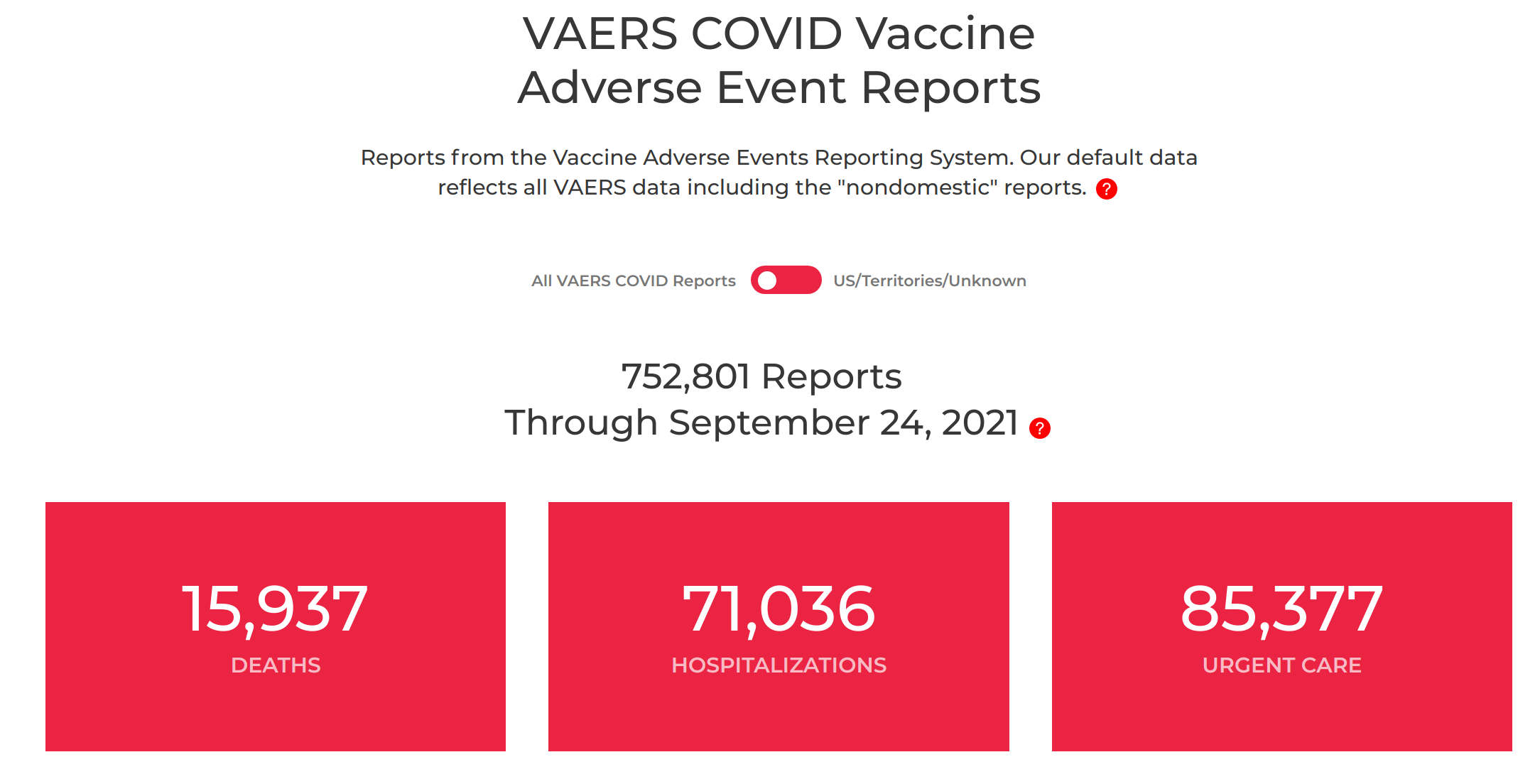 This too is a snippet! All the numbers that OpenVAERS report can be seen at openvaers.com/covid-data
We would like to translate what we have talked about.
| | | |
| --- | --- | --- |
| 752,801 reports | x 10 | 75,280,100 actual reported reports |
| 15,937 Deaths up over 500 from last week | x10 | 1,593,700 actual reported death reports |
remembering that
VAERS laggs the real count by 4 to 6 weeks.
That VAERS does not report deaths that happen after the first reported adverse reaction report to the public data base.
It is likely a good share of the Life threatening events have also lead to death. You can find these figure at the openvaers.com/covid-data page linked above.
How many have got a dose? In my view is far to many. It seems of interest to me that this NPR site chose to use the graphine symbol (or of biblical significance "666") to represent the states receiving the shot. I can only hope this reporting is "fake news".
Before you get your EUA death shot, you should listen to the video below.
Likely I am talking to the choir! I hope I am not talking but screaming! This is the thing. If we are sitting at home studying to protect ourselves. We are part of the problem. If we are not spreading the word about what is happening to those that are still under the MSM spell. We can take our share of the blame for a few of those deaths. We need to scream at the top of our lungs to anyone that will listen. If we can save just one life by exposing the lies published by media outlets. we can rest assured we are doing our part for humanity.
If you have gotten the kill shot. Then turn your anger against those that should receive it! You too can help keep others from making uninformed choices that likely will kill them.
You can download a QR code of this post/ website and share it. You can make business cards with the QR code and hand them out so those getting ready to take the kill shot may avoid the possible horrid death that many will receive with this death shot.
Please, Please, don't get Shot!!! Do your research.